As Thanksgiving approaches, Virginia's fire season has been exacerbated by an ongoing drought in the state, with multiple fires burning across the Appalachian Mountains. 
The Matt's Creek Fire in Bedford County, Virginia, is currently the largest in the state, burning about 11,106 acres to date, surpassing the now-contained Quaker Run Fire. With rain expected today, officials say they don't foresee a further spread of flames on the tenth day of the fire burning.
Now 100 percent contained, the Quaker Run Fire is still active near Madison County. As the fire neared the Syria community last week, local farmers and residents stepped in to assist fire crews.
"We were lucky not to have any agricultural damage," Brad Jarvis, Virginia Cooperative Extension agent in Madison County, reported.
Volunteers, including farmers and bear hunters, stepped up to assist in putting in fire lines and clearing brush and debris to keep it out of the fire's reach. 
Meanwhile, Virginia Governor Glenn Youngkin declared a state of emergency earlier this month to help deploy resources to help contain the fires and respond to any additional fires as necessary.
"This executive order will ensure that the Commonwealth has additional resources and is using every tool at its disposal to keep Virginians safe," said Governor Glenn Youngkin. "Thank you to our first responders who are doing everything they can to help contain these wildfires in the Commonwealth during this year's fall fire season."
The National Weather Service reports that nearly the entire state is "abnormally dry" with areas experiencing severe and extreme drought levels.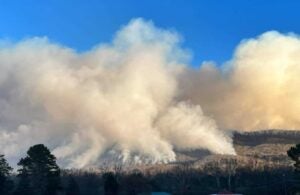 "In addition to creating an ideal environment for wildfires, the dry conditions pose challenges for farmers," reports the Madison County Farm Bureau. 
Virginia's fall fire season runs through Nov. 30. Low humidity and windy conditions, along with dry grasses and fallen leaves, combine this time of year to create favorable conditions for wildfires to spark and spread quickly. During years of dry summers — such as this one — wildfires are even more common. So far this year, Virginia has experienced 500 wildfires, which is consistent with past years.  
Several counties across Virginia are under an air quality alert due to smoke from the burning fires. And while air quality in the state is undoubtedly making working conditions challenging for those involved in agriculture, the smoke is also bound to impact agritourism operations. Meanwhile, local farm bureaus report that planted crops are in the ground awaiting incoming rains, while livestock farmers struggle with forage shortages due to low hay yields and decreased forage growth. 
»Related: Threat of western wildfires elevates forestry's role in 2023 farm bill