Impending yet another government shutdown, on November 16, Congress narrowly passed a stopgap bill that will extend the 2018 Farm Bill programs for one year. 
This, according to American Farm Bureau President Zippy Duvall, is a necessary step to avoid funding disruption for many of the programs on the Farm Bill. 
In the same breath, Duvall shared how the world has drastically changed since the 2018 Farm Bill was put into action. Therefore, a new bill must be passed to best serve a post-pandemic world.
"The current farm bill was written before the pandemic, before inflation spiked, and before global unrest sent shock waves through the food system. We need programs that reflect today's realities. So much work has been done by the agriculture committees in both the House and Senate over the past 18 months to prepare to craft a smart and effective farm bill. Congress must keep that momentum going."
While the industry as a whole agrees that a new farm bill must remain the focus, this extension will protect a fragile system that relies on the protections from the farm bill and keep them from losing all funding.
As mentioned in The Gazette, "The legislation extends funding for the U.S. Department of Agriculture at current spending levels until January 19 and extends all programs at levels provided in the 2018 Farm Bill through September 30, 2024."
They added, "It provides funding for a handful of small-ticket programs that were orphaned at the end of the fiscal year 2023, including feral swine eradication, urban agriculture, and a reserve fund for overseas food aid. Politico reported that the outlays would be offset by rescinding $177 million in unobligated funds in the Biorefinery Assistance Program and savings in USDA internal operations."
The Gazette also reiterates that one of the biggest fears with an expiration of the current farm bill is that some programs, without an extension, "would see commodity policies revert to permanent law with controls on production and costly price supports adopted in the 1930s and 1940s."
The stopgap bill is funded through internal Agriculture Department money and, according to biorefinery funding.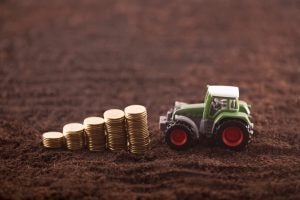 ---
Politicians are speaking up about their hopes for a new farm bill
What we're likely going to see is an extension through December of '24 and then a very aggressive pace at the beginning of the calendar year so that we can get a farm bill marked up in committee and get it onto the House floor as quickly as we can," House Ag Committee member Rick Crawford of Arkansas told Brownfield News.
House and Senate Agriculture Committee leaders shared a joint statement as well, "The stopgap measure extends the farm bill through September 2024, and the extension includes funding for the 21 "orphan" programs and for the Foundation for Food and Agriculture Research. Dairy subsidies would be extended through December 31, 2024, to avert the looming "dairy cliff" on January 1, when the government-guaranteed price of fresh milk would more than double, driving up prices."
According to Drovers, the critical details of the plan include:
The proposed stopgap measure would extend funding for certain agencies until mid-January and others until early February.

Agencies covered by the Military Construction-VA, Agriculture, Energy-Water, and Transportation-HUD bills would have their funding extended until January 19. For the remaining eight bills, the extension would be until February 2.
It's important to note that the WIC program will only be covered through January 19 because it is not included in the farm bill. Still, more than 41 million participants in the SNAP program will continue to receive benefits until September 30, as covered by the 2018 Farm Bill, through this stopgap legislation. 
Neither the House nor Senate has released their versions of the farm bill yet, and the Ag Economist's Monthly Monitor believes there is a decreased urgency to pass a new bill due to a healthy ag economy, an upcoming election year, political turmoil, and overall funding issues. Most economists surveyed by the monthly monitor believe a farm bill will be passed sometime in 2025 after the elections occur.
Chief Economist of Farmer Mac, Jackson Tackach, explained why 50 percent of surveyed believe this timeline. 
"Historically, when you get the alignment of a farm bill with that presidential election cycle, you tend to see people want to wait until after that cycle to see what changes – either colors over the White House or within the house of Congress itself," Tackach says. "So, I think that's what the economists are reacting to. This is a presidential election year next year, and we've got some things we need to address in terms of budgets and funding of the government just in general coming up in November."
»Related: The complicated road for a farm bill to pass through Congress
---
Markie Hageman Jones majored in agribusiness at Fort Hays State University. She is actively involved in her state Cattlemen's Association, Young Farmers chapter, and National Cattlemen's Beef Association. Her AGDAILY.com articles can be found here.