New Holland Agriculture has revealed its next-generation high-capacity harvesting combine, the CR11, at the Agritechnica 2023 trade show in Hanover, Germany. The CR11 combine incorporates new cutting-edge technologies that will help drive down the total cost of harvesting for large grain farmers and increase their bottom-line profitability.
The CR11 combine has also been awarded the only Gold Medal for Innovation at the 2023 Agritechnica Innovation Awards.
This combine builds upon the current New Holland flagship combine range, topped by the CR10.90, which has held the world record for tonnage of wheat harvested in eight hours (797.656 tons) for nearly a decade. The record was set on August 15, 2014.
New Holland designed the new combine in anticipation of how harvesting demands will continue to evolve and in response to feedback from customers seeking greater capacity, lower grain loss and maximum protection of grain quality. Recognizing how higher yielding crops and unpredictable weather can affect both this season's crop and the next, New Holland engineers aimed to design a machine that can play its full part in maximizing productivity by clearing fields quickly to protect quality, while ensuring the following year's crop establishment can occur in good time and conditions.
Due to its 775-horsepower C16 engine, 2×24-inch rotors, 567-bushel (20,000 liters) grain tank and a 6 bushels (210 liters) per second unload rate, the CR11 combine significantly increases productivity to levels that have not been achieved before.
New Holland engineers worked with the goal of creating a zero-loss harvesting machine, developing the new, larger and fully automated TwinClean double-cleaning shoe with automated cross-distribution control. The higher capacity grain tank of 567 bushels matches the machine's increased capacity and can be unloaded in under 100 seconds to support grain logistics efficiency.
The completely new residue management system comes with a new chopper and chaff spreader system, designed to ensure the best chop quality and uniform residue spreading at up to a 60-foot cutting width. The award-winning IntelliSpread radar system, winner of a 2022 Agritechnica Innovation Silver Medal, automates the spreading control to ensure full and even residue coverage behind the combine, regardless of wind effects, crop type or moisture conditions.
Designed to be user-friendly and intuitive, the IntelliSpread system uses radars to detect actual residue spread-width and closed-loop automatic control of the residue system parameters to continuously adjust to changing conditions. The result is an automated system that allows the operator to concentrate on other harvesting processes, while IntelliSpread provides the assurance of full-width and uniform residue coverage.
A new fully automated de-slug procedure was designed to reduce downtime. While the new CR11 combine is ready to be pushed for maximum throughput, New Holland recognizes it's impossible to completely eliminate any risk of plugging. In the unlikely event of a combine blockage, the automatic de-slug program guides the operator through an unplugging procedure that enables them to clear the combine in minutes without leaving the comfort of the combine cab.
Because it significantly reduces downtime caused by such a scenario, the automated de-slug procedure gives the operator confidence to utilize the combine's full capacity potential without concern of blocking. In addition to bolstering operator confidence and providing peace of mind, this feature increases safety when clearing a blockage, as operators are not required to leave the cab during the automated de-slug process.
Downtime prevention is further aided by the combine's revised driveline simplicity with approximately 25 percent fewer drive components and elimination of all drive chains.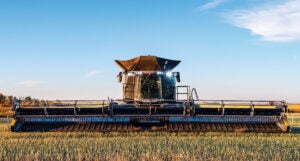 The CR11 combine benefits from a completely new design that packages premium aesthetics with form and functionality. Multiple cab upgrades provide additional benefits in comfort and control.
Also visible, the FD250 New Holland draper head by MacDon adds to the overall productivity and field efficiency of the harvesting package.
Recognizing the trend toward reduced ground compaction, in combination with transport width regulations, the CR11 combine will be available with the SmartTrax hydraulically suspended track or a broad range of larger tire offerings, including the Michelin Cerexbib 2, size 900/65R46 with a diameter of 7.7 feet. This tire was the result of a development partnership between New Holland and Michelin. It's the first time this next level of tire size is being introduced on a combine of any type. The long footprint and increased traction provide a reduced ground compaction that sets a new precedent in harvesting.
"Farm consolidation, increased yields and short harvesting windows are driving the need to continue the evolution of combine capacity with less grain loss and at the best grain quality," explains Lars Sorensen, head of combines and headers for New Holland Agriculture. "This new combine is a market game-changer designed to offer the next level of productivity with no comparison to anything available on the market today. We have made further strides in technology and automation, and the strong feedback from the first farmer tests means we are very excited about the launch of these new machines."