Mary-Dell Chilton, one of the most distinguished employees in the history of Syngenta and a woman known as "The Mother of Genetic Modification," has been awarded the National Medal of Technology and Innovation by President Joe Biden. The award was given during a ceremony last month.
Chilton, who earned a Ph.D. in chemistry from the University of Illinois Urbana-Champaign, led the team of Syngenta researchers that produced the first transgenic plant and pioneered plant biotechnology, discovering novel methods to improve plants' ability to control pests and withstand extreme conditions. She retired in 2018 at the age of 79 after a 35-year career with Syngenta.
"Mary-Dell Chilton is a true trailblazer and icon in our industry, and this extraordinary award further confirms the scale and impact of her contributions to the field," said Justin Wolfe, President Syngenta Seeds. "We are honored to recognize this achievement alongside our former colleague and leader who has inspired innovative thinking and approaches to research during her 35 years at Syngenta and beyond."
This award is the latest recognition in a history of awards and achievements for Chilton, including the honor of the Golden Goose Award on September 27, which celebrates federally funded research that benefits society. Previous awards include the World Food Prize in 2013 and the Benjamin Franklin Medal.

During the late '70s and early '80s, Chilton was inspired by nature to transfer a naturally occurring agrobacterium into the gene of a tobacco plant. She led a collaborative research study at Washington University in St. Louis, and although the GMO tobacco she worked on was never commercialized, it was here where she discovered how to do it.
"DNA was what drove my interest from the time I was a beginning grad student in the early 1960s," she said in a biography posted on Syngenta's website. "It was a hot issue then, whether genes could get transferred to a higher plant."
Chilton is widely recognized as a founder of modern plant biotechnology, after she and her research teams demonstrated that Agrobacterium is an effective vehicle for DNA transfer and produced the first transgenic plant. Her groundbreaking work in academia and the private sector ultimately led to the development and commercialization of biotech crops, which help farmers effectively manage damaging insects, disease complexes, weed pressure, and abiotic stress — resulting in greater yields, profitability, and efficiency.
"Few have made as indelible a mark on our industry and society as Mary-Dell Chilton," said Michiel van Lookeren Campagne, head of global seeds research, Syngenta, during Chilton's retirement. "Her curiosity, innovation and hard work helped usher in a new era in agriculture. During her 35 years with Syngenta and a legacy company, she shaped our biotech seeds research program into the robust R&D engine it is today, and she will forever be part of the Syngenta family."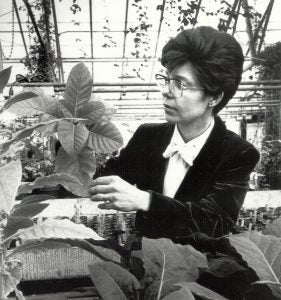 Here is a complete list of Chilton's awards:
National Academy of Sciences, 1985
Rank Prize in Nutrition (United Kingdom), 1986
David Gottlieb Medal, University of Illinois, 1986
Hendricks Medal, American Chemical Society, 1987
John Scott Award, City of Philadelphia, 2000
Benjamin Franklin Medal in Life Sciences, Franklin Institute, Philadelphia, 2002
Washington University, St. Louis, Distinguished Professorship in Arts and Sciences, 2009
CSSA Presidential Award, Crop Science Society of America, 2011
Triangle Business Journal Lifetime Achievement Award, 2013
Order of the Long Leaf Pine Award, 2013
Raleigh News & Observer Tar Heel of the Year, 2013
USDA Hall of Heroes Inductee, 2015
National Inventors Hall of Fame, 2015
National Academy of Inventors Inductee, 2016
World Changer Award, Research Triangle Park Rotary Club, 2018
Golden Goose Award, 2023
National Medal of Technology and Innovation, 2023