After last winter's strange weather anomalies, the Farmers' Almanac forecasts a return to traditional winter weather for 2023-24, predicting cold temperatures and plenty of snow to come. 
Although winter officially starts on Dec. 21, the almanac explains that the cold conditions likely won't hold off until then. The meteorological winter starts on December 1, and December 2023's forecast is quite stormy with the Farmers' Almanac calling for blizzard conditions blowing snow into areas over northern New England, the North Central states, and northern and central areas of New Mexico, Oklahoma, and Arkansas.
For those in the Great Lakes, Midwest, Central, and New England areas, get out your snowblowers, extra sweaters, and skis as the January and February forecast calls for below-average temps, snowstorms, ice, and rain. 
To find out when the snow may fly in your part of the country, take a look at the weather forecast zones in these Farmers' Almanac maps.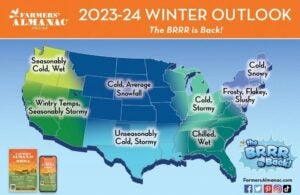 Why is the "brrrrrr" coming back? El Niño may be to blame
If an El Niño materializes in the latter half of 2023, it's predicted that the unusually high water temperature off the Pacific Coast of South America will account for cold temperatures throughout the country, including snow, sleep, and ice.  
With an El Niño possible, expect copious amounts of rain and snow across the entire Northwest. Even Texas should plan to bundle up with unseasonably cold and big storms predicted in mid-January. 
An unusually snowy and wet winter is also predicted for the Pacific Northwest. Should an El Niño materialize, it could direct the subtropical jet stream into California, translating into copious amounts of rain and snow across the Southwest.
Winter in the Great Plains and Rockies will usher in plenty of cold temperatures and occasional bouts of storminess, bringing widespread rains and snows.
The Southeast and Florida will see a wetter-than-normal winter, with average winter temperatures overall, but a few frosts may send many shivers to snowbirds trying to avoid the cold and snow back home.
For those of you living along the Interstate 95 corridor from Washington to Boston, who saw a lack of wintry precipitation last winter, you should experience quite the opposite, with lots of rain/sleet and snowstorms to contend with.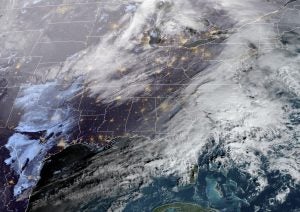 When does winter end? 
With a myriad of winter weather advisories across the country through January and February and some possible late snowstorms predicted in March and April, it looks like the "brrrr" won't let go very easily. March's forecast calls for swings in the thermometer, especially in the east, with March possibly going out like a lion, with stormy conditions nationwide. 
The Farmers' Almanac weather predictions are based on a formula originally developed in 1818 by the publication's foundering editor, David Young. This formula incorporates many of the various techniques as well as sunspot activity, tidal action of the moon, the position of the planets, and more. 
The 2024 Farmers' Almanac, with its orange and green cover, is now available in bookstores and retail stores, as well as on Amazon and FarmersAlmanac.com. Not just for farmers, the Almanac reaches a broader audience with husbandry tips, days to cut your hair or mow your lawn (that you won't see for a while), quit bad habits, brew beer, and grow basil. 
You may notice as you review the Farmers' Almanac forecast that wintry forecasts are similar to what was put out in the Old Farmer's Almanac forecast. However, the former varies by predicting 16 months in advance for seven U.S. climate zones, and five Canadian, versus 18 months predicted by the Old Farmers' Alamanac in 18 U.S. regions and seven in Canada.
»Related: Study: Agriculture benefits from end of Daylight Saving Time