California won't be able to label Bayer Ag's Monsanto product Roundup (or any glyphosate products) with a Proposition 65 cancer warning after all. A three-judge panel on the Ninth Circuit Court of Appeals upheld a 2020 decision, saying that a cancer warning on the product would be misleading to consumers and violate the First Amendment. 
California has an interest in protecting its citizens against hazardous chemicals, the court said. But "compelling sellers to warn consumers of a potential 'risk' never confirmed by any regulatory body — or of a hazard not 'known' to more than a small subset of the scientific community — does not directly advance that interest," the court said.
The 2-1 decision split decision came as a result of California Attorney General Rob Bonta's efforts to enforce the warning label. The problem is that despite millions of dollars in lawsuits alleging that the weedkiller causes cancer, the Ninth Circuit said in the Nov. 7 ruling that there's no scientific consensus. 
The U.S. Constitution allows the government to compel speech that is "purely factual" and "uncontroversial," the court said, and the claim Roundup is carcinogenic is neither. While the International Agency for Research on Cancer has declared glyphosate "probably carcinogenic," the vast majority of regulators, including the U.S. Environmental Protection Agency, disagree.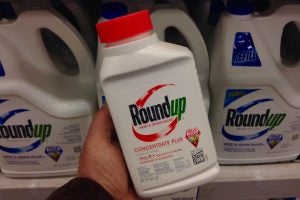 "Although commandeering speech may seem expedient, it is seldom constitutionally permissible," wrote Judge Consuelo Callahan. "Considering the current vigorous debate surrounding the scientific validity of glyphosate's carcinogenicity, forcing plaintiffs to convey that message cannot be said to be an uncontroversial proposition."
Dissenting Judge Mary Schroeder said that the warning label would include factual statements, including that the IARC believes glyphosate to be carcinogenic but that the EPA and others do not agree. 
"The majority says that compelling a message 'at odds with its mission' is a harbinger of controversy," wrote Judge Schroeder. "Yet every warning of a product's risk to consumers bears a message at odds with the manufacturer's mission to sell more products."
Despite this small victory, Roundup's manufacturer was ordered by a San Diego jury earlier this month to pay $332 million to a 51-year-old man who claimed that he developed cancer from exposure to the product. The plaintiff, Mike Dennis, is just one of thousands bringing lawsuits in California to Monsanto and Bayer over exposure to glyphosate.
This latest verdict against Monsanto comes just a few days after another man was awarded $175 million from the Philadelphia Common Pleas Court by a jury that decided that glyphosate, the active ingredient in Roundup, is carcinogenic when in the presence of other compounds. Not long before that case, a Missouri jury awarded $1.25 million to a plaintiff in a similar proceeding.
Glyphosate, which has been around since the 1970s, is the active ingredient in Roundup and other products, such as Ranger Pro, and it is often targeted by activists speaking out against modern agricultural practices. Bayer's lawyers have long argued that numerous studies have shown Roundup is safe, and the U.S. Environmental Protection Agency has concluded that glyphosate is not a carcinogen.
Independently, nearly all scientific bodies and associated research have affirmed the safety of glyphosate.
»Related: Glyphosate — the Internet's fearmongering darling