Wayne Hsiung — an animal-rights activist, lawyer, and co-founder of the group Direct Action Everywhere — was convicted last week by a Sonoma County, California, jury to one felony and two misdemeanor charges for his extreme antics on poultry farms.
According to reports, the verdict came as a result of Hsiung's involvement in a 2018 protest at Sunrise Farms and another in 2019 at Reichardt Duck Farms. Hsiung was convicted of misdemeanor trespass for both events, while the felony conspiracy conviction relates only to Sunrise Farms actions. The jury did not reach a verdict regarding Hsiung's role in the Reichardt Duck Farms protest. 
During the trial, Hsiung represented himself, comparing his and other involved activists' actions (a tactic they refer to as "open rescue") to rescuing a child or a pet from a car on a hot day. He cited California's Penal Code 597e, which refers to abandonment of domesticated animals, to justify taking birds from the farms. 
"I could be going to jail for organizing others and trying to take sick and injured animals to the vet," Hsiung said in a video posted on social media the day before his conviction. "That's all I did."
Following the verdict, Hsiung was put into jail, where he will await a November 30 sentencing hearing. According to The Intercept, Hsiung plans to appeal, claiming there were prejudicial rulings and errors by the judge.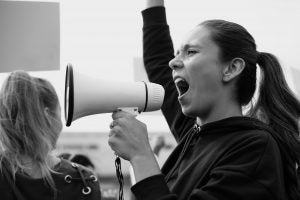 Targeting the food and farming communities from the witness stand isn't a new tactic for activist groups. However, by acting as martyrs for their causes, radicals hope their tactics give rise to new animal laws.
This isn't the first time Hsiung has been involved in legal proceedings surrounding animal-rights actions. Aside from his involvement as a defense attorney in other activist cases, Hsiung and Paul Picklesimer dodged charges and were found guilty after the two removed pigs from a Smithfield farm in 2017. Hsiung was later convicted of larceny and felony breaking and entering in 2021 on a North Carolina farm incident where a goat was removed. 
Directly after Hsiung headed to jail, Direct Action Everywhere attempted to file reports at the Sonoma County District Attorney's office and the Sonoma County Sheriff's Office surrounding allegations against Reichardt Duck Farms and Sunrise Egg Farm. 
»Related: Viewpoint: Targeting ag youth brings out the worst in animal-rights activism