Amara Jackson, an agricultural communications and agribusiness junior at the Oklahoma State University Ferguson College of Agriculture, was named president of the National FFA Organization earlier this month.
Jackson is a native of Corunna, Michigan, and served as president of the Michigan FFA Organization from 2021 to 2022.
"Amara's joy, warmth, and unique ability to build a community where others feel like they belong has allowed her to inspire FFA members across the state of Michigan," said Tiffany Rogers-Randolph, Michigan FFA state executive secretary. "Knowing the impact she has made at home, we are so excited for what this next year will bring for Amara and the difference she will make in the lives of students and stakeholders across the country."
While attending Lansing Community College and fulfilling her year as a state officer, Jackson decided to pursue a degree from OSU.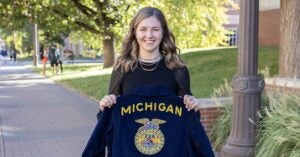 "I was fortunate enough to have a lot of conversations with people in the industry and learn their stories," Jackson said. "I had several mentors who encouraged me to look at the agricultural communications program, and when I spoke with some folks about Oklahoma State, they just raved about it."
Jackson fell in love with the OSU campus when she and her mother visited in 2022. She applied and was later accepted to the university's McKnight Scholars Leadership Program.
"I felt at home here," she said. "The financial support is incredible, but it intrigued me that I could continue leadership development. At the time, I wasn't sure if I was going to run for a national office, so having the opportunity to continue leadership development beyond FFA was important to me."
Jackson will kick off her presidential duties with training at the National FFA Organization's headquarters in Indianapolis in December. The travel season of March through July will involve hundreds of visits to FFA conferences, conventions, and camps nationwide to meet members and hear their stories. She will also advocate for FFA members on the National FFA Board of Directors.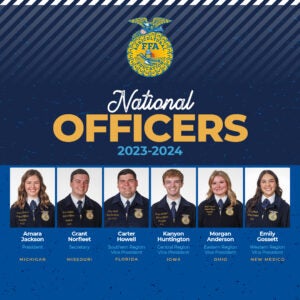 "As a national officer, you serve as the student voice for the nearly one million members in the organization," she said. "Our team cares a lot about the students, and we want them to have the opportunities that we had in FFA."
At the start of the fall semester, Jackson had discussed the possibility of a national office bid with her professors and is grateful for the outpouring of support from the Ferguson College and other departments across campus.
"We're proud of Amara's accomplishments and talents that uphold the strong traditions our college has established with state and national FFA organizations," said Dr. Cynda Clary, associate dean of the Ferguson College. "Amara will shine as a representative of her home state and OSU during the next 12 months of her national office."
Dr. Dwayne Cartmell, OSU professor of agricultural communications and Jackson's academic faculty advisor, said she is a leader in the classroom and her degree program.
"Amara's passion is evident, and her smile is contagious," he said. "I know she will make a positive impact on young people's lives during the next year."
Jackson's yearlong adventure representing today's youth in agriculture awaits, and OSU embraces her success.
"I'm proud to be from Oklahoma State," she said. "A lot of faculty and staff invested in me. It took a community to get me here."