As holiday season approaches and the 2023 year comes to a close, something has been weighing on lawmakers in Washington — passing the 2023 farm bill, which expired earlier in September and was only just recently granted a short extension.
The National Young Farmers Coalition (NYFC), established in 2009, is a nonprofit working hard to ensure that lawmakers hear what future generations of farmers need today in the farm bill.
NYFC conducts a survey every five years of farmer needs, the latest done between December 2021 and April 2022, and received over 10,000 responses, with the No. 1 issue reported by farmers as gaining land access.
In response, NYFC is advocating for increased access to farmland as a priority in the 2023 farm bill, with their One Million Acres Campaign, geared to push Congress to invest more in equitable land access for all farmers.
Nestled within their campaign is the Increasing Land Access, Security, and Opportunities Act, otherwise known as LASO. This is NYFC's proposed marker bill to direct lawmakers on reasonable solutions and initiatives to achieve this goal.
LASO was first introduced in the House of Representatives on June 6 this year by Nikki Budzinksi (D-IL), Zach Nunn (R-IA), Joe Courtney (D-CT), and Abigail Spanberger (D-VA) and then later brought to the Senate on July 20 by Tina Smith (D-MN).
Alita Kelly, Land Organizing Director for National Young Farmers Coalition, spoke more about LASO and how NYFC is advocating for young farmers across the country during this critical time.
Based in Grand Rapids, Michigan, Kelly co-founded South East Market, and found herself promoting sustainable practices by sourcing from local businesses and supporting urban agriculture and conservation.
While operating the grocery store, Kelly was introduced to Payge Lindow from the National Young Farmers Coalition, and together they co-founded the West Michigan Chapter, which centered on land access to support Kelly's regional community. From there, Kelly became more involved in advocating for more land access. Last year, she was named the Land Organizing Director for the Land Advocacy Fellowship, composed of over eighty BIPOC farmers across the nation.
The LASO marker bill focuses on authorizing and expanding on the U.S. Department of Agriculture's Increasing Land, Capital, and Market Access program, petitioning for appropriations of $100 million per year.
Specifically, the bill pushes for more grants to strengthen land, capital and market access for historically underserved farmers, with an emphasis on operating in high-poverty areas. The bill also hopes to provide direct funding for farmers to cover the costs of acquiring farmland, from covering closing costs, securing titles, and capitalizing on infrastructure.
To ensure that historically underserved farmers are able to gain access to these resources, NYFC is advocating for application information as a part of the bill, so that projects that serve underrepresented minorities can be prioritized for funding. NYFC is providing transparency on problems that farmers are facing, and how federal aid can help alleviate these issues.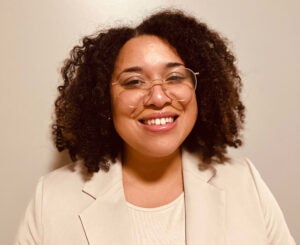 For example, Kelly cited an example involving a farmer named Celina Esekawu, who founded Ala Soul Earthworks, an organization dedicated to growing food that supports an African Diasporic diet such as potatoes, okra, collard greens, and other crops. Esekawu's family has a long history of stewarding their land in Texas, but is at risk of losing their farmland due to the many challenges farmers face today.
"These farmers are agrarian experts who have been stewarding land but through dispossession or other issues, are losing their land. … And this is happening disproportionately to people of color than not," said Kelly.
LASO can support farmers like Esekawu and boost morale, promising farmers that what they bring to the table is valued and supported.
"Celina is trying to help people remember their history on the land," said Kelly, and she hopes that other farmers who have a long history of practicing can continue to do so in a prospective, supported way.
In addition to increasing land access, LASO addresses other issues such as conservation, urban agriculture, and building a robust connection between national agencies and local organizations.
Kelly hopes that lawmakers will expand upon the Environmental Quality Incentives Program (EQIP), the USDA's flagship program to help farmers, ranchers, and growers integrate conservation efforts into their operations. As Kelly elaborated, "that program doesn't actually work for small farms. … This bill would provide resources to create a sub program within EQIP tailored for small farms."
She and NYFC hope more funding will be used to train Natural Resources Conservation Service employees on how small farms operate and make the EQIP program more inclusive to a diverse spread of growers.
"It's going to be such a win because it's going to provide a whole other sector of support to set up sustainable farms," said Kelly.

Ensuring federal resources for urban agriculture growers is also important to NYFC — Kelly noted that 15 percent of respondents from their survey identified as urban agriculture growers, and this number is growing. While the government formally recognized this trend and established an Office of Urban Agriculture in the 2018 farm bill, Kelly heard that there were talks of reducing funding for this division.
"There's a connection between urban areas being where minorities and people of color are, and where they may feel comfortable farming," said Kelly. "It's important to ensure there's federal resources for them."
Another effort of NYFC is establishing a network of local organizations that farmers trust to access these federal resources. Many farmers, historically Black communities, have an uneasy relationship with national organizations such as the USDA, which can exacerbate problems that disproportionately affect Black farmers (such as land access, where 75 percent of Black farmers report it to be a major issue compared to 54 percent of young farmers overall).
NYFC is collating a list of local groups by region that they hope to pass along to lawmakers, to help facilitate a more trusting and transparent process to access federal resources. For example, Kelly listed the Pittsburgh Food Policy Council and the National Sustainable Agriculture Coalition in the Northeast, the Ohio River Foundation and the Midwest Farmers of Color in the Midwest, and Nourish Colorado and Treehouse Farm Collective in the West to name a few.
"We were very cognizant of any distrust or wariness when drafting the marker bill… [and] we have a long list of organizations that are value-aligned with our policy goals," said Kelly. "I hope we can encourage the USDA to do more intentional outreach by working with people that farmers trust."
Ultimately, Kelly hopes that the 2023 farm bill will reflect initiatives to address issues young farmers today are facing. Something important to Kelly and NYFC is that the programs and resources being advocated for are culturally appropriate for indigenous groups and people of color.
"This can look different in many ways, but there is such a diversity in land practice management, farming techniques, etc. … We need to make sure the USDA is aware of that," Kelly said.
The National Young Farmers Coalition was founded by and for young farmers, and aims to always serve the needs of young farmers across the nation. By advocating for land access, NYFC has maintained its mission to, according to its website, "shift power and change policy to equitably resource our new generation of working farmers."
Kelly anticipates that the needs and struggles of young farmers will always be changing, given how interconnected many issues such as land access, soil health, and water rights are to a farmer. The advocacy and work that the National Young Farmers Coalition is doing ensures that these ever-changing issues are being communicated to lawmakers in Washington, and that the voices of young farmers across the country are being heard.
---
Liza Thuy Nguyen serves as the 2023 American Farmland Trust Agriculture Communications Intern at AGDAILY, with a focus on helping to amplify diversity and minority voices in agriculture. Liza is originally from Anaheim, California, and attended the University of California, Davis, as a first-generation college student. She received a bachelor's degree in genetics and genomics and went on to earn a master's in horticulture from Penn State.