Invasive species — an "alien to the ecosystem," as the United States Department of Agriculture defines them — have been making the news for quite a while. By now you've probably heard of the spotted lanternfly, and, boy, have they made headlines: Including this headline from The New York Times, Die, Beautiful Spotted Lanternfly, Die.
But the spotted lanternfly isn't the only invasive species around, so scoot on by spotted lanternfly, make way for the other bugs on the block.
For the impact that invasive species make on our communities and ecosystems, we really don't hear much about them. Quoted in a Washington Post article, University of Concepción Professor Aníbal Pauchard says that invasive species are being introduced to new areas at an unprecedented rate of 200 new species a year.
In 2011, the United Nations Environmental Program held a stockholder meeting to discuss the importance of biodiversity, and the impact of it on agriculture and general well being, including answering the question of how invasive species affect underprivileged communities.
They decided that there needs to be an international science-policy platform to bring forward the latest research on biodiversity in different ecosystems. This group formed in 2012 and is now known as the Intergovernmental Platform on Biodiversity and Ecosystem Services (IPBES).
They do not conduct research, rather they put together relevant information on biodiversity to drive change and real responses. Responses larger and more proactive than asking New York residents to step on them.
Invasive species haven't invaded our regulations much, but legislation like a future farm bill could make room for them. The North American Invasive Species Management Association, for example, has pushed to make updates to the 2023 farm bill, such as making noxious weeds fall under the category of plant pests, and improving the Conservation Reservation Program, among other reforms.
Invasive species cross country lines and oceans with us whether we know it or not. If you live in an old farmhouse in the Northeast you surely find stink bugs in your house during the winter — and it wouldn't be hard for them to hitch a ride in your duffle bag across the country.
Stink bugs, along with some other invasive species such as the Africanized honeybee, emerald ash borer, and giant African snails are small, but their impact is mighty. The emerald ash borer is reported to have killed 40 million ash trees in Michigan alone! The giant african snail is one of the most damaging snails in the world, according to the USDA, because it eats over 500 plant species and causes damage to plaster.
Not to mention they grow as large as your hand and lay up to 1,200 eggs each year per adult female snail!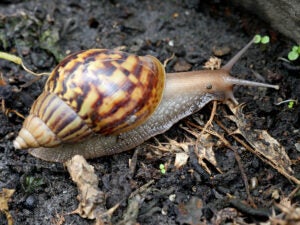 Check out the USDA's top invasive species list to see what other species may be lurking around.
But invasive species don't stop at the creepy crawlies: Did you know that hippos are invasive species to Colombia?
Pablo Escobar, the King of Cocaine and drug lord in Colombia in the 1980s, illegally smuggled hippos to his ranch at his home in Medellín, Colombia. After his death in a police shootout in 1993, they attempted to bring the animals on the ranch back to their respective homes, but the hippos escaped their enclosure and were too aggressive to wrangle up, so they had no choice but to leave them there. Since then, the hippo population has grown, and they have no predators to threaten their existence and population growth.
What started with just four hippos has now grown to 150, which is a population only expected to continue to increase. In March 2023 Colombia spent $3.5 million to capture 70 hippos and relocate them to sanctuaries in Mexico and India.
Invasive species come in all shapes and sizes and are a huge threat to agriculture and our well being. Viruses and pests destroy millions of dollars of crops and farm land, the poorer parts of our country being hit the hardest, as they often lack the resources to mitigate risk or kill invasive species.
You should support increased legislature to curb the growth of invasive species, check your farm land for them, and definitely don't bring them home to the farm like one Pablo Escobar!
---
Elizabeth Maslyn is a born-and-raised dairy farmer from Upstate New York. Her passion for agriculture has driven her to share the stories of farmers with all consumers, and promote agriculture in everything she does. She works hard to increase food literacy in her community, and wants to share the stories of her local farmers.