On June 21, 2023, the U.S. Department of Agriculture delivered on one of the many campaign promises of its Equity Commission.
The federal department committed to invest $262.5 million in supporting and hopefully procuring the next generation of diverse agricultural scientists, farmers, ranchers, marketers, and agricultural professionals across the country.
"Each generation of agricultural professionals faces new challenges as we feed our world's growing population," shared the U.S. Secretary of Agriculture Tom Vilsack. "We need to ensure our youth have the education and training they need to accelerate the development of an agricultural system that is climate-smart, sustainable, profitable and equitable."
According to the most recent Census of Agriculture on farm producers, the highest percentage of producers are 35 to 64 years of age (58 percent). Less than 8 percent of producers are under the age of 35, and the amount of students graduating and choosing to enter the agricultural industry is 3 percent of all college graduates; foreshadowing the costly burden our young agriculturalists may soon bear as the pipeline of professionals in the industry slowly runs dry.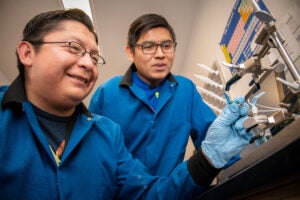 Of these statistics, 95.4 percent of producers are White. Whereas, 4.2 percent of producers combined belong to the American Indian/Alaska Native, Asian, Black, Native Hawaiian/Pacific Islander, and Hispanic backgrounds and cultures. With these populations often finding themselves on average at, below, or barely above the poverty line compared to their White counterparts, it has also been seen as a crucial point to recruit, cultivate ideas, and bring talent from diverse ethnic and social populations to agriculture's repertoire in order to lift communities out of poverty and into a more stable livelihood.
How the administration sees us approaching these two problems, lies in our minority-serving institutions of agriculture.
"This historic investment from the Biden-Harris Administration in our nation's minority-serving institutions brings us closer to building a workforce that represents the richness and diversity of all the communities we serve," Vilsack said.
The National Institute of Food and Agriculture's From Learning to Leading: Cultivating the Next Generation of Diverse Food and Agriculture Professionals Program (NextGen) will be the entity to provide minority-serving institutions support in training staff, faculty, and institutional professionals in enhancing educational supports for students working toward agricultural degrees. The funding will also provide more experiential learning and early exposure career opportunities for their students.
The NextGen Program was designed to enable minority-serving institutions to "build and sustain the next generation of food, agriculture, natural resources, and human sciences (FANH) workforce." They have always accomplished this goal through providing student scholarship support, paid internships, fellowships, and job opportunities. The program seeks to be a pipeline for USDA workers.
However, the NextGen Program's subsidiary goal has been for all students touched by their program to walk away with the skills and knowledge to contribute to the agricultural industry as a professional within it.
With the funding provided by the administration to strengthen our agricultural industries diversity and size, NextGen can now expand and recruit to all sectors of the agricultural industry.
To assess the impact of the NextGen program, NIFA is partnering with the Intercultural Development Research Association. Their goal is to use the data collected to continue to improve their reach in this program.
Currently, the funding is supporting more than 20,000 future agriculturalists through 33 different projects across the country.

Not only will these projects continue to be funded and impact the lives of thousands, but this funding works to progress the USDA Equity Commission's ultimate goal of eliminating systemic discrimination and bias within the federal branch.
Earlier in the year, the commission released recommendations for the USDA to consider when removing barriers and recruiting more diverse talent to their ranks. These recommendations included strengthening research, extension, and teaching at all food and agricultural science minority-serving institutions.
The step taken by the USDA in providing these millions of dollars of funding will trickle down to the roots of our institutions. And what will bud up will become something more influentially beautiful than what we can currently conceptualize as a country. What will be harvested are thousands of diverse professionals, who when tapped into, will nourish the communities they come from and the communities they serve; they will be role models and architects of what a nation could be. More sustainable, more equitable, more grounded nation-aware of who we are and aware of the future we desire for every person that lives on this ground.
Now, we wait for the seed to break the soil; this program can cultivate the future desired and needed for agriculture to survive.
---
Bre Holbert is a past National FFA President and studied agriculture science and education at California State-Chico. "Two ears to listen is better than one mouth to speak. Two ears allow us to affirm more people, rather than letting our mouth loose to damage people's story by speaking on behalf of others."