Public health officials in Utah are investigating a cluster of illnesses associated with drinking "raw" or unpasteurized milk.
To date, the Salt Lake County Health Department has identified 10 people in the county with campylobacteriosis, an illness caused by the bacterium Campylobacter. Eight of the ten people infected confirmed that they drank raw milk prior to their illness.
Health officials in other areas of the state have identified an additional four people infected — all of whom drank raw milk — for a statewide total of 14 people with campylobacteriosis, 12 of whom have confirmed raw milk consumption.
The 14 people infected in this outbreak ranged in age from two to 73 years old. One person was hospitalized but is now recovering at home. The source of the raw milk in this outbreak remains under investigation.
»Related: Food Science Babe: Risks and benefits associated with raw milk
---
Symptoms of the affected
Campylobacteriosis is a bacterial infection that causes diarrhea, abdominal pain, fever, headache, nausea, and vomiting. Illness can last for up to a week or more and can be severe, especially for young children, pregnant women, older adults, and those with weakened immune systems or other health conditions.
In severe cases, complications from campylobacteriosis can lead to paralysis and even death.
The Salt Lake City Health Department has advised people who have recently consumed raw milk or raw milk products and are experiencing any of these symptoms to contact their healthcare provider.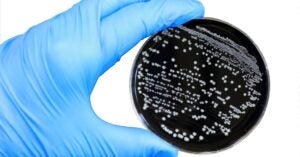 ---
The raw milk difference
Milk pasteurization, which is the process of heating milk to a high enough temperature for a long enough time to destroy or deactivate organisms and enzymes that contribute to spoilage or risk of disease, has been around since the 1800s. 
"Raw" milk is milk from cows, goats, or sheep that has not been pasteurized to kill harmful bacteria. This raw, unpasteurized milk can contain dangerous bacteria such as Campylobacter, Salmonella, Listeria, and E. coli, all of which are responsible for causing foodborne illnesses. Other products made from raw milk, such as cream or queso fresco, can also cause illness.
In Utah, raw milk and raw milk products may only be sold directly from farm to consumer; grocery stores in Utah may only sell pasteurized dairy products. Farms that sell raw milk to consumers must be licensed to do so by the Utah Department of Agriculture and Food; there are 16 licensed raw milk retailers in Utah, three of which are in Salt Lake County.
Raw milk contaminated with disease-causing bacteria does not smell or look any different from uncontaminated raw milk. There is no easy way for a consumer to know whether raw milk contains harmful bacteria.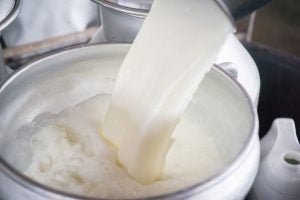 People who choose to consume raw milk or raw milk products should do the following to help decrease the chance of illness:
Heat raw milk to 165° F for at least 15 seconds (and then cool it) before consuming it.
Keep raw milk and raw milk products refrigerated at or below 40° F. Do not let raw milk sit out at room temperature.
Since 2009, in Utah there have been 25 documented outbreaks of Campylobacter infection associated with raw milk consumption. Those outbreaks have collectively resulted in 295 people becoming ill.
At the national level, between 2013 and 2018, 75 outbreaks reported to CDC were linked to raw milk. These outbreaks included 675 illnesses and 98 hospitalizations. Most of the outbreaks were caused by Campylobacter, Shiga toxin-producing E. coli, or Salmonella.
»Related: Tennessee children hospitalized with E. coli linked to raw milk