Schools around the country have been struggling with a shortage of milk cartons. If not addressed, U.S. Senator Chuck Schumer warns that the milk carton shortage may have negative effects on farmers or create challenges in getting milk to schools. 
While there is no shortage of milk, there is a supply chain problem with half-pint cardboard cartons. Although New York state is home to more than 3,200 dairy farms and produced 15.66 billion pounds of milk in 2022, the consequent shortages are inhibiting suppliers' ability to provide milk to schools and other customers in New York, California, Pennsylvania, Washington state, and across the country.
In school lunchrooms, milk is required to be served with every meal according to USDA nutrition standards. 
It is currently unclear how long the shortage could last. However, Matt Herrick, senior vice president of the International Dairy Foods Association, told Dairy Foods that the shortage should ease by early 2024. 
Schumer has called on the U.S. Department of Agriculture to take action to not only ensure that New York's dairy farmers have the technical support they need to get through the shortage but also to work with industry leaders to devise creative solutions to get milk to our school lunchrooms and to investigate the shortage to stop disruptions like this from happening in the future and minimize downstream impacts.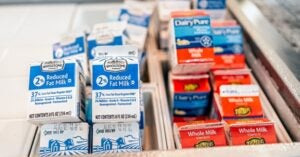 Why the shortage? A production backlog at Pactiv Evergreen, a packaging manufacturer in Lake Forest, Ill., has made the company unable to fulfill orders. While Pactiv Evergreen has not explained the shortage, the company announced a restructuring to combine its beverage and food merchandising business earlier this year. The company closed its paper mill in North Carolina and another converting facility in Ohio to effect that change. 
Some schools have turned to plastic bottles, while others are using dispensers. While schools are currently working with suppliers to figure out temporary solutions to ensure schools are receiving enough milk and students' nutritional needs are being met, Schumer says that now is the time for the USDA to work with industry and our dairy farmers to find solutions.
"Milk is an essential part of our students' school lunches and the lifeblood of our Upstate New York agricultural economy, but with a national milk carton shortage looming over our schools, now is the time for the USDA to step up to ensure our farmers get more support to continue their essential work. That is why I am calling on the USDA to start to work with industry leaders to address this shortage we are seeing nationwide, and provide all the leadership and technical support needed to help our New York dairy farmers," Schumer wrote in a letter to the department. "The USDA is uniquely positioned to investigate this problem from a national level and work with the dairy industry, our farmers, and schools to mitigate the impacts of shortages and propose solutions."
»Related: Amendment to keep chocolate milk in schools passes House