The National 4-H Council recently announced that Katie Collins, 19, of Charlotte, Tennessee, was named one of four winners of the 2024 4-H Youth in Action Awards. 
Currently an undergraduate at the University of Tennessee in Knoxville, Collins aims to graduate with an agriculture business degree and a minor in international agriculture and natural resources.
While Collins is now being recognized nationally for her efforts to create career opportunities in agriculture for diverse and rural youth in her community, her beginnings in 4-H were grassroots-driven, showcasing the power of the 4-H program.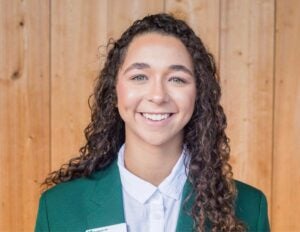 Growing up as a mixed-race girl on a dairy farm, Collins often felt like she didn't quite fit in. Her journey as a 4-H leader began when she was elected president of the Charlotte Elementary fourth grade 4-H Club.
"An Extension agent came into your classrooms in Tennessee in the fourth grade. They told me I could bang a gavel on the desk and be president," remembered Collins. "So, I told them to sign me up!" 
She would re-enroll in the program in fifth, sixth, and seventh grade — a move that not only ended up helping Collins find a place to belong but one where she was embraced. 
"Sometimes you don't feel like you belong places, like you're judged for your external looks and not your internal heart. And I felt like 4 H was one of the first places where I felt that people cared about me, not because of what I looked like on the outside," Collins said. "I wasn't just like a diversity member; I was a human being before I was anything else in 4-H."
Nurturiung the backbone of her 4-H experience, Collins said her grandfather is one of her most significant role models.
"All of my passions for agriculture and everything I've done all stems from him," Collins said. "He's been a farmer his whole life, but he taught me just how intelligent farmers are. I look up to him so much." 
So, when Collin's grandfather fell ill when she was in the eighth grade, her trajectory in 4-H went off course.  
"I kind of fell off. My grandfather was my biggest inspiration to pursue 4-H," said Collins. "It was tough for me to keep going. But in the ninth grade, I reconnected to 4-H through a program called Youth Leadership Fixing County."
The program was offered through Collin's county 4-H office.  It was there that she reconnected with her county's 4-H agent, who also convinced her to try her hand at public speaking contests, a project that would become one of her primary 4-H contests over the years.
With determination and a service mindset, Collins has since completed hundreds of hours of leadership training and dairy-related volunteer work. She has also successfully advocated for the expansion of the Tennessee 4-H program at the local and state level.
As the 4-H Honor President, she worked closely with her 4-H agent to develop and implement a program called See Yourself in Ag. Designed to expose diverse youth to agriculture and its career opportunities, the program also focuses on the importance of hard work, resilience, and individuality.
The program exposes participants to the breadth of the agricultural industry — not only the crops and animals but the science and economics behind it.
"I hear a lot of people say that they don't want to be a farmer," said Collins. "Well, I don't want to be a farmer, but I'm pursuing a career in the agriculture industry. I don't think people understand how many opportunities are out there. I want everyone to understand that agriculture really is for everyone. And I wanted to give them a face that looks a little different."
See Yourself in Ag has reached 672 4-H'ers through 12 project trips and introduced the students to four farmers and eight industries. Fifty-three percent of participants were female, and 68 percent were young people of color.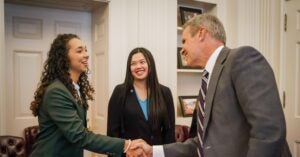 Since receiving her national award, Collins has been able to advocate heartily for 4-H in her state. 
"I really hope to convey the message the 4-H gives kids a chance to belong, and it gives them opportunities that not everyone gets: to be themselves, try different projects, fall gracefully, gain confidence, and gain unexpected skills along the way," said Collins.
»Related: National 4-H Council names 2024 Youth in Action award winners
---
Heidi Crnkovic, is the Associate Editor for AGDAILY. She is a New Mexico native with deep-seated roots in the Southwest and a passion for all things agriculture.