Consumer Reports is a nonprofit organization that most of us are familiar with, thanks to the company's history of providing information to help decide which appliances are best for our bottom line. Yet somewhere along the line, Consumer Reports flipped its narrative to target agricultural products and practices.
Following a December 2022 report titled, Lead and Cadmium Could Be in Your Dark Chocolate, Consumer Reports has updated its take on cadmium and lead in the chocolate you eat with an October 2023 version titled, A Third of Chocolate Products Are High in Heavy Metals, CR's Tests Find.
There's no question that this title was written to be as alarming (and click-baity?) as possible. Plus, the timing couldn't be better with chocolate-loving holidays rapidly approaching, but needless to say, the reporting and data analysis lacks in several areas. 
Food Science Babe addressed Consumer Reports' 2022 article on AGDAILY and similarly in videos addressing a Your Herbs and Spices Might Contain Arsenic, Cadmium, and Lead report in early 2022.
Much like in the 2022 report, for CR's test, it used California's maximum allowable dose level (MADL), a stringent level set by Prop 65 for lead and cadmium. While California's levels limit leads to 0.5 micrograms (µg) and cadmium to 4.1 µg per day, the U.S. Food and Drug Administration's interim reference levels (IRL) are 2.2 µg per day for children and 8.8 µg per day for females of childbearing age. 

It's also important to note that the FDA's IRLs take a 10x safety factor, accounting for a safety level 10 times less than the actual amount of lead intake from food required to reach the Centers for Disease Control and Prevention's blood reference level. 
CR's report also references a lawsuit settlement between As You Sow, a group that advocates for enforcement of Proposition 65, and the National Confectioners Association. The settlement established concentration levels for both lead and cadmium that required warning labels if surpassed.
These levels are as follows for an ounce of chocolate:
| | |
| --- | --- |
| Up to 65% cacao content: | 2.8 µg lead and 11.3 µg cadmium |
| Greater than 65% and up to 95% cacao content: | 4.3 µg lead and 12.8 µg cadmium |
| More than 95% cacao content: | 6.4 µg lead and 27.2 µg cadmium |
Despite adopting California's particularly strict MADL as its own, most of the chocolate identified by CR fell well within dose levels for both lead and cadmium. 
The CR report also says, "Our tests are not assessments of whether a product exceeds California's or any other legal standard — they are meant to indicate which products had comparatively higher levels of heavy metals."
CR also communicates its findings by reporting the results as percentages of the MADL supplied in an ounce of chocolate and a red color-coded designation for anything that exceeds 100 percent of CR's levels, so that is misleading.
Much like the 2022 report, 2023's implication that products exceeding 100 percent of the assigned values are unsafe, which is wildly misleading. 
As Johns Hopkins Medicine toxicologist Andrew Stolbach told NPR, "MADLs are set to be very conservative to account for people with higher risk due to their age and other medical conditions. … When the chocolate is consumed in moderate amounts, the lead and cadmium levels are nothing to worry about."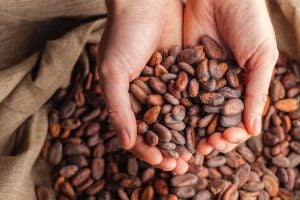 Like the CR report states, dark chocolate is typically higher in heavy metals than milk chocolate — the cocoa content is higher.
So, where does lead in chocolate and cocoa come from? Lead comes from many sources, including soil, dust, and deposition from power plants around the world, and can adhere to the outer shells of cocoa beans after they are extracted from the pods.
When harvested, cocoa beans are naturally covered with a sticky cacao pulp, which allows lead to cling to the beans while they are being fermented and dried in the open in the tropical countries where cocoa is grown. The shells are removed at the beginning of the chocolate-making process.
Cadmium, on the other hand, can be found in chocolate and cocoa due to its presence in tropical soils where crops are cultivated and harvested. Cocoa trees absorb cadmium from soils via their roots and despot it into the nibs (or center) of the cocoa beans.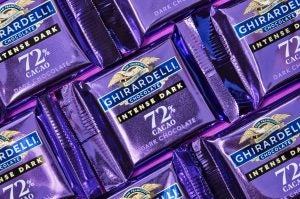 The Food and Drug Administration told CR that, "While the presence of cadmium and lead in chocolate has been the subject of considerable media attention, experts from around the world have found that chocolate is a minor source of exposure to these contaminants internationally." 
Lead exposure is likely to occur when consuming a diverse diet that includes meat, fish, and vegetables. Meanwhile, in a 2019 study, people received the highest amounts of cadmium from food groups, including cereals and breads, leafy vegetables, and potatoes. 
Additionally, Stolbach said, "If you make sure that the rest of your diet is good and sufficient in calcium and iron, you protect yourself even more by preventing absorption of some lead and cadmium in your diet."
And it does appear that most consumers understand that candy is a treat. According to the CDC's National Health and Nutrition Survey, people in the U.S. enjoy chocolate and candy two to three times per week, averaging just 40 calories per day.
Reducing lead in cocoa products likely comes down to changes in harvesting and manufacturing processes: decreasing soil contact, drying beans away from roadways, looking at protective covers, and even looking at ways to remove metal contaminants during the cleaning process at factories. 
In her 2023 article, Food Science Babe shared potential solutions for reducing cadmium, which might involve genetically engineering plants to take up less cadmium or replacing older trees with younger ones since cadmium levels seem to increase as plants age. 
Ultimately, like so many other things, the dose makes the poison. And, chocolate has been consumed safely for centuries.  
The National Confectioners Association states, "Chocolate and cocoa are safe to eat and can be enjoyed as treats as they have been for centuries. Food safety and product quality remain our highest priorities, and we remain dedicated to being transparent and socially responsible."
While heavy metals in food are certainly a concern, and growing and production practices continue to improve, reports like CR can serve to scare consumers by reducing the topic to a graphic used to scare consumers.